Pallet Load AS/RS
Home Product Introduction Pallet Load AS/RS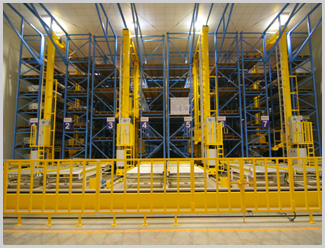 The Pallet Load automatic warehousing system, size of demand the basis customer Pallet unit size, the design warehousing high density storage space, We may provide 500~3000kg(1100~6600lb) pallet load, as well as highly to 36 meter (118ft) warehousing steel frame design.
The AS/RS construction may divide into from Rack support warehouse and Freestanding warehouse, makes the best design workshop of disposition according to the customer, and available applies mechanically the freezing warehouse (to - 30℃ environment) and the low noise environment.
The Pallet load AS/RS standardized system design for Single-Deep deposit type, we may also depend on the system disposition demand to provide double deep deposit type the design.
The system composition unit contains
Storage and Retrieval Vehicle SRV
Warehousing steel frame
The conveyor – store-in/store-out/picking material/ inventory.. the workstation composition
Control power distribution and control system
AS/RS computer system - stock management system/monitoring management system/computer hardware composition
System merit
Enters the as/rs automation province hominization, solves predicament of the 3K industry labor force person insufficiency.
The computer segment work enters the as/rs high speed, raises the physical distribution efficiency.
The land uses effectively, namely the province occupying land area surface above 50%, reduces the cost of investment.
In the as/rs management, leaves first advanced completely reduces the stock.
The information, provides the complete fast information highly.
The many type automatic minute goods, reduce the tallying time and the cost.
Suitable Industry
Lives technique industry
Melts industry
Pneumatic tool industry
Hand tool industry
Screw product industry
Revertex product industry
Iron stock processing industry
Welding rod product industry
Rubber products industry
Automobile spare parts manufacturing industry
Steel wire (cable) product industry
Electronics industry
Takes the accessories industry
Paper manufacturing industry
Bicycle industry
Mold manufacturing industry
Family accessories industry
Mechanical processing industry
Textile industry
Aviation industry
Communication materials industry
Air pressure equipment manufacturing industry